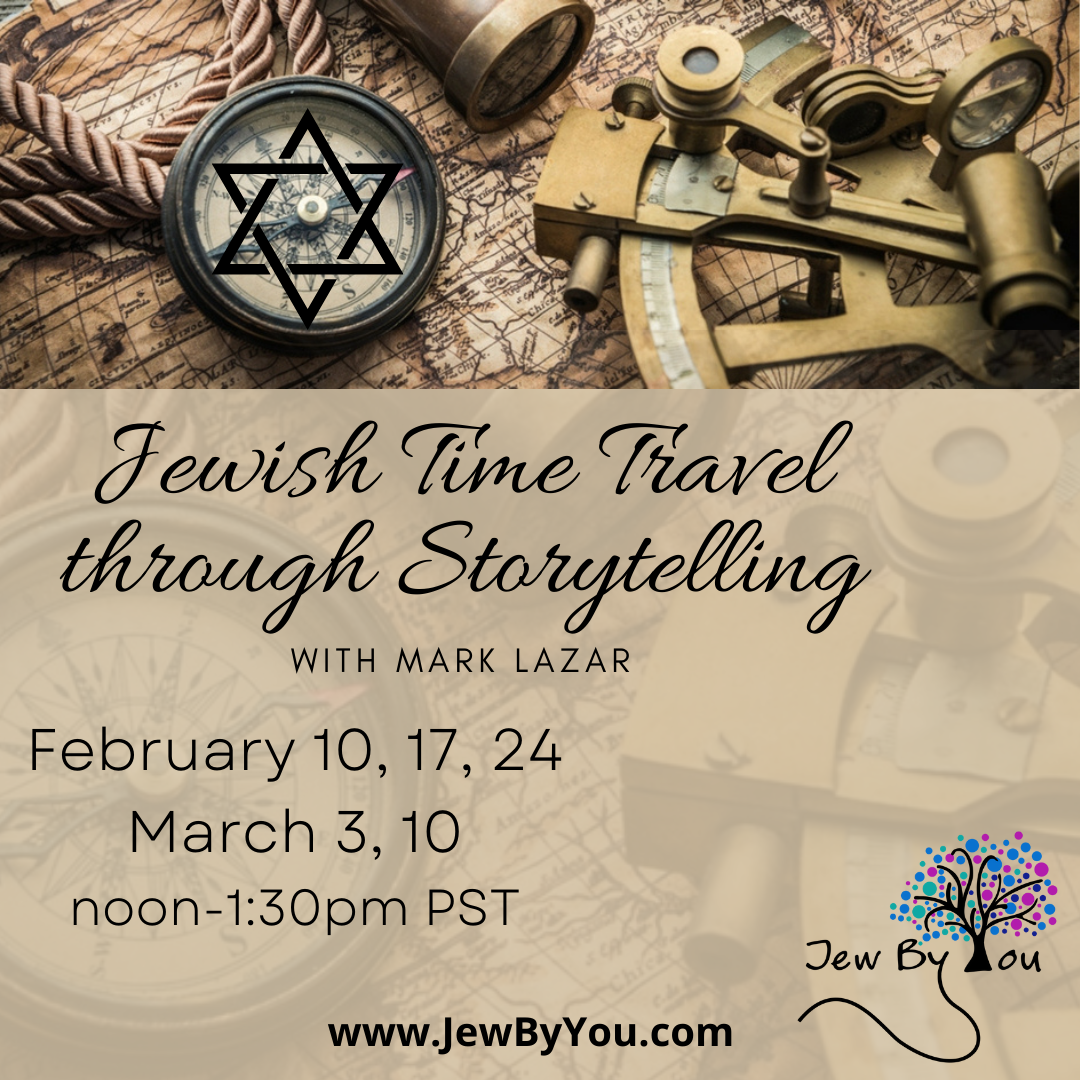 Jewish time Travel Through Storytelling with Mark Lazar
In this five session course you will "time travel" with storyteller and educator Mark Lazar to different times and locations of the Jewish People. Often humorous, occasionally touching, these stories and tales will open the door for insightful discussions on Jewish identity and values throughout the ages.
Cost: $20/session. Cost: $20/session (you can register for one class or all five. When registering, in the notes at check out, please say which class(es) you are registering for. If you are registering for more than one class, make sure you have that number of "products" in your cart. If you cannot make the sessions in-person, you can register and we will send you the link to the video following the class.
Session #1 Biblical and Rabbinical Stories and Midrashim
From young Abraham to Kings David & Solomon to Rabbis Hillel & Shammai, stories and legends will be interwoven and explored over this near two-thousand- year time period.
Session #2 The Legends and Tales of Krakow
Jews lived in the region of Krakow for over 700 years. By way of strolling down
the streets of Kazimierz, the Jewish Quarter, Mark will share stories set against
this stunning backdrop.
Session #3 Jewish Folk Tales from Eastern Europe
The world of shtetls, shuls and Rabbis will be explored as we usher in the times
of Chasidic Judaism. This time period covers from after the medieval ages until
the Enlightenment.
Session #4 L'Chaim! Stories for the Holidays
A joyful exploration of each Jewish holiday with the narrative of stories,
midrashim, anecdotes, and insightful tidbits! Fasten your seatbelts as we will
bounce around history quite a bit!
Session #5 Have I Got a Story for You!
This final session will explore both personal and contemporary Jewish related
stories of modern times with time allotted for participants to share a few of their
own! A final look at Jewish identity throughout the ages will conclude this course.
Bio
Mark Lazar has been in involved in Jewish/Israel education since before he had gray hair. He lived in Israel from 1993-2016 working for the Jewish Agency for Israel, the American Joint Distribution Committee and numerous other educational and travel companies. He has guided in Israel as well as led over sixty Jewish Journeys in Poland. He has been invited to lecture at Limmud Festivals in the UK, New Zealand, Bulgaria, Serbia and The Baltics. Before his time Israel and since returning to the U.S., Mark has worked in informal Jewish education at camps, schools, synagogues and from 2016-18 as the Director of the Center for Jewish Life at the Merage JCC of OC. In another life, Mark was a former member of the Screen Actors Guild and the American Guild of Variety Artists.
Recent Posts
Contact Us
Oops! We could not locate your form.